Our unbreakable and long lasting temperature indication devices are cost effective, accurate, easy to use, long lasting, and are an excellent replacement to traditional glass thermometers.  Our thermometers and indication devices range from hot water and UV indication to fridge and freezer thermometers.

Bath Thermometers
Easily determine the ideal bath water temperature. Perfect for children and seniors. Non-toxic.

Refrigerator Thermometers
Save energy and money on the highest energy consumer in the house by setting your refrigerator to the correct temperature to prevent energy waste.

Hot Water Temperature Indicator
Increase awareness that tap water can be too hot especially for children which can result in burns.

Freezer Thermometers
Ensure your freezers are at the optimal temperature for food storage. Save energy and money.

Fridge & Freezer Thermometers
Store foods at their ideal temperature to prevent spoiling and freezer burn.

UV Intensity Meters & Testers
Use the UV card to assess the sunscreen SPF strength required to protect against prevailing UV conditions.

Human Fever Temperature Indicators
A clearly visible temperature reading for five distinct temperatures. Hold to forehead to determine fever.

Baby Bottle Temperature Indicator
Accurately measure the temperature of your baby's bottle. Dishwasher and microwave safe.

Stress Level Indicators
Monitor your stress level as indicated by the blood flow through fingertips. Indicates CALM, TENSE, and STRESSED

Heat Stress Awareness Indicator
Prevent heat stroke, heat exhaustion and help raise the awareness of heat stress and other health risks.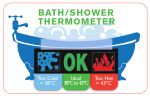 AHS Bath/Shower Card
The cards have been specially designed for AHS use.
Customizable, Unique Promotional Tools

Showcase your corporate identity on the card to produce awareness. Excellent marketing tool.

Our product line can be custom printed or die-cut into any shape to create a high impact promotional or premium item tailored to suit individual customer requirements.

Our products educate, are inexpensive, unbreakable, long lasting, non-toxic and don't require batteries.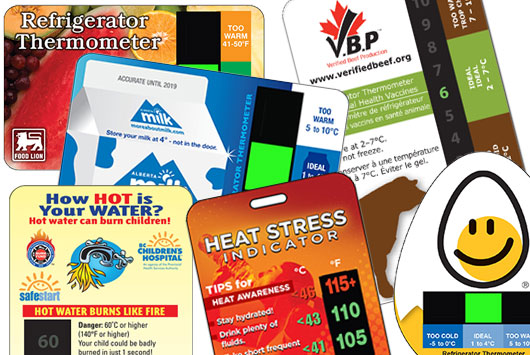 Superior Products And Customers Satisfaction Is Our Goal.
Contact us for detailed product information .