Do you suffer from Stress? Are you unsure if you do? Now with the introduction of the MATC Stress Level Indicators, you can easily monitor your general level of stress, as indicated by a measure of blood flow in the fingertips.
To utilize this simple convenient device, simply press your thumb against the Encapsulated Liquid Crystal strip on the MATC Stress Card. The liquid crystal panel changes colour in response to variations in temperature and, within seconds, the specially formulated liquid crystal strip will provide a clear visual indication of your general stress level. This is based on the physiological principle that stress triggers a shift in blood flow to the vital organs (heart, brain, lungs, muscles), reducing the flow to extremities causing lower temperature in hands and feet. After determining your general stress levels, the appropriate actions can be taken to relax and lower the apparent elevated stress levels.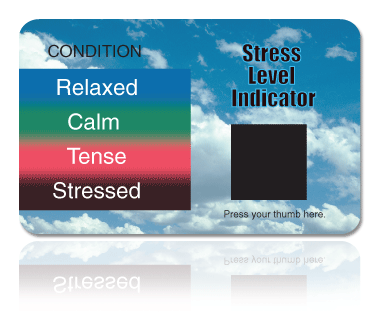 Excellent Marketing Tool
• Corporate branding

Monitor your stress level as indicated by the blood flow through fingertips.

Indicates CALM, TENSE, and STRESSED
• Unbreakable
• Inexpensive
• No batteries
• Non-toxic
Benefits Provided by the MATC Stress Level Indicator Card:
First and foremost, the MATC Stress Level Indicators indicates whether or not an individual may be suffering from stress and encourages you to consider your stress level at any time. Many individuals are convinced that they do not suffer from stress. This is due to the fact that stress has become habitual for them. As a result, they accept stress as a normal condition and usually don't take appropriate measures to reduce stress levels.  The MATC Stress Level Indicator card could also play a key role in improving performance at work, by advising employees to recognize signs of stress and then assist them in overcoming stress. This is a crucial benefit to businesses, as stress is the largest cause of worker absenteeism. According to American Institute of Stress, "60% of employee absences were due to psychological problems such as stress". Although stress is a huge problem in the workplace today, MATC is helping to change that. The MATC Stress Level Indicator cards and accompanying literature outlining several stress management techniques are excellent ways to help you and your company to reduce stress in the workplace. The MATC Stress Level Indicators will remain active and accurate for a period of 5 years or more, providing literally thousands of stress level readings and substantial residual marketing impact among consumers during this time.
Custom Configurations Available:
The MATC Stress Level Indicators are available in custom printed formats only and can also be die-cut in any shape to create a high impact promotional or premium item. They can be designed to complete customer specifications with your corporate or brand identification and other promotional or advertising information.
Customizable, Unique Promotional Tools

Showcase your corporate identity on the card to produce awareness. Excellent marketing tool.

Our product line can be custom printed or die-cut into any shape to create a high impact promotional or premium item tailored to suit individual customer requirements.

Our products educate, are inexpensive, unbreakable, long lasting, non-toxic and don't require batteries.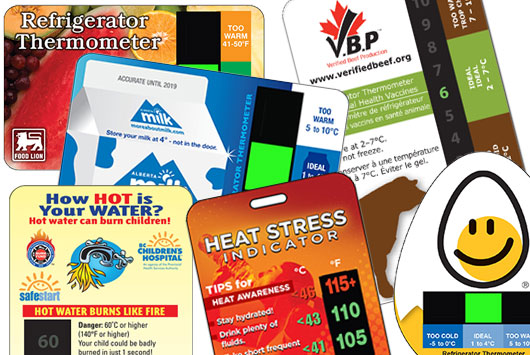 Superior Products And Customers Satisfaction Is Our Goal.
Contact us for detailed product information .