Alberta Health Services Bath/Shower Card
AHS Bath/Shower Cards Available Here.
Ready to use.  No calibration necessary.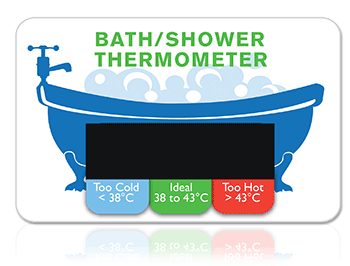 AHS has contracted MATC to supply care facilities with this card.

The cards have been specially designed for AHS use.

Each card costs $1.80, shipping and taxes extra.

FedEx Ground service is used for deliveries unless arranged otherwise.
• These cards need little care.
• To clean, wipe with a mild soap and damp cloth, rinse and ready to reuse.
• The effectiveness of the card can be compromised by extended exposure to UV.
• Bending/breaking the temp strip will affect use.
• If uncertain about the viability of a card, test the water temp with a regular bulb thermometer.
• AHS recommends each resident have their own card.
• AHS recommends replacing the card 5 years after manufacturing date. This date is marked on the back of each card.
Customizable, Unique Promotional Tools

Showcase your corporate identity on the card to produce awareness. Excellent marketing tool.

Our product line can be custom printed or die-cut into any shape to create a high impact promotional or premium item tailored to suit individual customer requirements.

Our products educate, are inexpensive, unbreakable, long lasting, non-toxic and don't require batteries.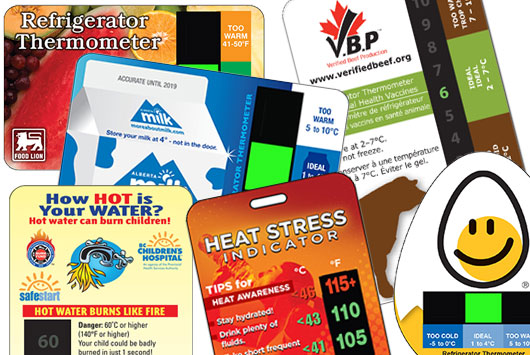 Superior Products And Customers Satisfaction Is Our Goal.
Contact us for detailed product information .