UV Intensity Meters and Lens Testers
Ensure that you or your organization takes advantage of this important and exciting product!
The MATC personal UV Intensity Meters enable individuals to receive an immediate general measurement of the prevailing strength of sun's ultraviolet rays. The Lens Tester is utilized to test the protective quality of sunglasses, prescription glasses or contact lenses within 10-20 seconds. Guidelines are printed above the UV Meters, which allow the user of the UV card to assess the sunscreen SPF strength required to protect against prevailing UV conditions. Individuals are now able to take immediate measures to ensure that they are protecting their own health and that of their families, friends and associates. 
This card will revert back to its original colour within minutes and may be reused as a convenient reference hundreds of times in the future! All of the various standard sizes and formats of the MATC UV Intensity Meter & Lens Tester Cards may be custom printed to suit specific promotional or retail purposes on several paper or plastic stocks. The unique UV Meter concept can also be incorporated into the production of special hang-tags, business or promotional cards or special die-cut items with custom designed "high-light" areas, which change colour when exposed to ultraviolet light.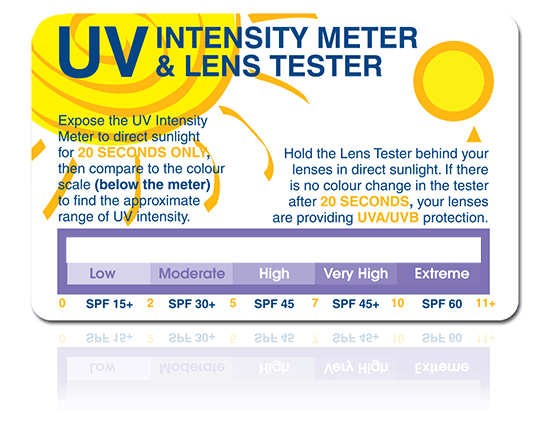 All of the Intensity Meter products incorporate a UV sensitive strip that changes to a shade of purple when exposed to sunlight. An adjacent colour-matching chart provides information about the prevailing level of UV. Numbers beside the meter correspond approximately to the UV Index developed by Environment Canada. The cards also provide the user with general guidelines to encourage the application of adequate strength sunscreen to protect the skin. The UV Meters react primarily to the wavelengths of light between 290-325 nm, the UVB range of sunlight that can cause sunburn and other external damage. The Lens Testers are engineered to react up to the 400nm wavelength in the UVA range of sunlight. This provides a more equal reading of the entire prevailing UV spectrum, which is important for complete eye protection.
Custom Configurations Available:
MATC's representatives would be happy to help you design your own unique premium or promotional item tailored to suit your individual requirements. With our unique MATC UV Intensity Meters & Lens Tester products, MATC has introduced an important and timely product.
Customizable, Unique Promotional Tools

Showcase your corporate identity on the card to produce awareness. Excellent marketing tool.

Our product line can be custom printed or die-cut into any shape to create a high impact promotional or premium item tailored to suit individual customer requirements.

Our products educate, are inexpensive, unbreakable, long lasting, non-toxic and don't require batteries.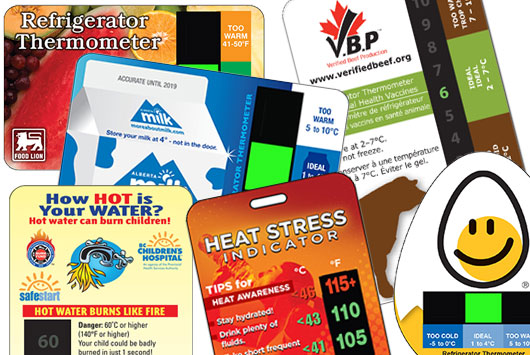 Superior Products And Customers Satisfaction Is Our Goal.
Contact us for detailed product information .