Human Fever Temperature Indicators
This easy to use product is appealing to a large number of people including senior citizens who may also appreciate the simplicity and convenience of this innovative device.
It is often inconvenient to carry a conventional fever thermometer with you at all times. For parents with children, it is also very difficult to get your child to co-operate with the administration of a conventional thermometer fever test. With the MATC Human Fever Indicators taking a person's temperature and carrying a thermometer with you at all times is now easy. The MATC Human Fever Indicator is a valuable and simple instrument for obtaining an indication as to whether or not you or your child has a fever and can easily be stored in a purse or wallet. Just gently press the front side of the MATC Human Fever Indicator or Digital Fever Indicator against the forehead for only fifteen seconds and the Encapsulated Liquid Crystal technology on the card will accurately display whether or not you or your child has a normal temperature or a fever.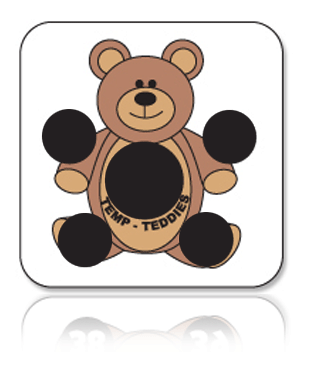 Hold to forehead to determine fever.

Accurate within 0.5ºC.

Great for seniors, travelling, and visible at a glance.

Excellent Marketing Tool
• Corporate Branding
• Unbreakable
• Inexpensive
• No batteries
• Non-toxic
• Easy to use
• Reusable
The Digital Fever Indicator product line provides individuals with a clearly visible temperature reading for five distinct temperatures. These are indicated from left to right on the ELC strip by an N (which is approximately Normal 36 degrees Celsius/97 degrees Fahrenheit), 37 degrees Celsius (99F), 38 degrees Celsius (101F), 39 degrees Celsius (103F) and 40 degrees Celsius (105F), enabling the consumer to determine just how elevated their fever may be. The Fever Indicator cards offer a more simplified fever test reading by displaying either an N (for Normal) or an F (for Fever) on the ELC portion of the card or strip. We have produced other Fever Indicator products that provide three temperature level readings, illustrated by an N (for Normal), F (for Fever), and HF (for High Fever). Other custom ELC configurations may be developed to suit any other customer specifications and we always welcome the initiation of newly created product concepts or formats.
Although complete technical material for specific MATC Encapsulated Liquid Crystal products is available upon request from our sales team, we should point out that the Fever Indicator product line has been carefully tested and developed in order to provide a body temperature reading which is accurate within 0.5 degrees Celsius at all levels. In addition, we should note that the N-F Fever Indicators display an N when the body temperature of the person being tested is between approximately 35-37 degrees Celsius (95F-99F) and F when the body temperature is between 37-40 degrees Celsius (99F-104F). For the N-F-HF indicators, the first two levels are the same as the N-F Fever Indicators, with the HF level measuring body temperature between 40-42 degrees Celsius (104F-107F)
It is important to mention that all of the MATC Fever Indicator cards have been engineered to compensate for the fact that the temperature of the forehead skin is always approximately 2 degrees Celsius (3.6 degrees Fahrenheit) less than the internal temperature of the body. Thus, when testing the cards in a laboratory environment, you will notice that each temperature level on the ELC display appears with maximum green brightness at temperatures close to 2 degrees (3.6 F) lower than the temperature indicated.
Custom Configurations Available:
The MATC Human Fever Indicator Cards, as with all items in the Measurement and Technology Company portfolio, can be custom printed and die-cut into any shape to create a high impact promotional or premium item tailored to suit exact customer design specifications. The MATC Fever Indicator products are truly exceptional health care items for the convenience of people of all ages. Each Fever Indicator product will be utilized and appreciated literally hundreds of times in the future by anyone receiving or purchasing this device.
Customizable, Unique Promotional Tools

Showcase your corporate identity on the card to produce awareness. Excellent marketing tool.

Our product line can be custom printed or die-cut into any shape to create a high impact promotional or premium item tailored to suit individual customer requirements.

Our products educate, are inexpensive, unbreakable, long lasting, non-toxic and don't require batteries.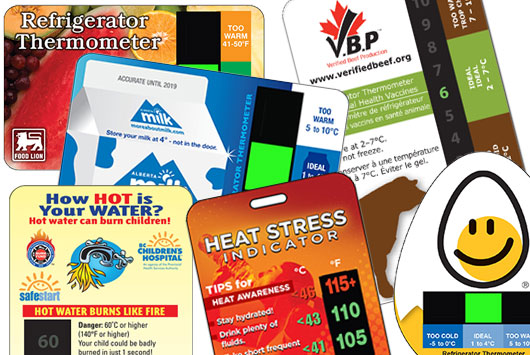 Superior Products And Customers Satisfaction Is Our Goal.
Contact us for detailed product information .